Illuminating Your Outdoor Event: The Power of Proper Event Lighting
So you're engaged! Congratulations on your exciting news! If you're like most couples, many of you will be planning to host either a portion or the entire event outdoors. As you start planning your special day, there's one important aspect you don't want to overlook - event lighting. Trust us, the right lighting can make all the difference for your celebration. It can set the mood, create beautiful memories, and even keep your guests safe. In this post, we're going to show you why outdoor event lighting is so important and give you some fun and creative ideas to light up your love.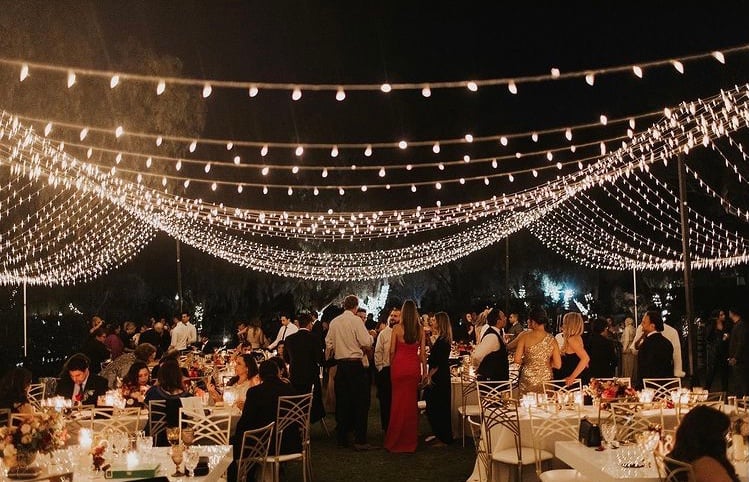 Mood and Ambiance: Lighting is magical! Imagine walking into a beautifully lit outdoor space. This is what sets the tone for an unforgettable, picturesque celebration. Whether you're going for a romantic, intimate vibe or a lively, energetic atmosphere, outdoor event lighting can help you achieve just that. From string lights overhead to outdoor chandeliers, the possibilities are endless. You can share your vision with our lighting designer or we can design a space just for you.
Safety: We know you want your guests to have a great time, but their safety is always a top priority. With proper outdoor event lighting, your guests can easily navigate the venue even after the sun sets. Plus, well-lit areas just feel safer and can give you peace of mind on your big day.
Creative Expression: Your wedding should reflect your unique personality and style, and outdoor event lighting is the perfect opportunity to do just that. Whether you prefer a classic look or something bold and eclectic, the sky's the limit. You can even incorporate your favorite colors or special symbols into your lighting design for a truly personalized touch. If you can dream it, we can make it happen!
Photos: With all the memories you'll be making on your special day, you want to make sure they're captured in the most amazing way possible. Outdoor event lighting can provide a magical atmosphere for photos, one that both you and your guests will never forget!
When working with Sandy Beach Lighting and Design Company, know that you are in good hands. We are a full-service lighting company, which means that we will handle everything from design, logistics, set-up, of course takedown. We know how busy this day is for you and your family.. know that this is one last thing on your list!